Best Website development Institute in Ambala
Website development Course in Ambala
Here's what we provide in website development course:
Get our Website development course. Our website development course offers comprehensive training in building dynamic and interactive websites. Participants learn programming languages like HTML, CSS, JavaScript, and back-end frameworks to develop the skills needed to create robust and functional web applications.
Front end development (HTML, CSS, JavaScript and jQuery)

Back end development (PHP, Python, NodeJS etc) 

CMS design/development

Daily classes for 2.5 hours 

Online/ Offline options for classes

5+ years of experienced tutors

Lifetime of support

3 months of internship programme 

Free spoken and development classes 

Free workshops

Interview practice and training

Resume assistance

Lifetime mentoring 
Ambala -
The Science City
Ambala offers a conducive environment for IT companies to thrive. In recent years, Ambala has witnessed a significant increase in IT investments, leading to the establishment of numerous IT startups, service providers, and multinational corporations. The city's thriving IT ecosystem creates a collaborative environment, fostering knowledge sharing and networking opportunities for professionals.
Overall, Ambala's favourable business environment, skilled workforce, robust infrastructure, and government support make it a promising destination for the IT sector. As the city continues to grow and develop, it is poised to become a major IT hub, attracting further investments and contributing to the digital transformation of the region.
Allow promotion of brands to connect with potential customers using the internet and other forms of digital communication.
Learn to creating, developing and maintaining websites and web applications that run online on a browser.
He is an expert Web application Developer, Designer, Digital Marketer & management, with more than 13 years of experience.
His expertise are as follows: PHP, Ajax, Javascript, WordPress, CRM, Drupal, and with a focus on delivering high-quality code and products in the high traffic environment.
For the last 9 years, he has been more into Digital Marketing, Project management and discussing the new ideas of the project with the Client. He also has experience working with many Clients like Prodigar Ltd. UK, UIblueprint Canada, and many more. He is an expert here to help you always learn new things.
Vivek is the founder and MD of Climb Solutions info. – Information technology and consulting company, and Tech Trained an institute of internet marketing and Webtech learning.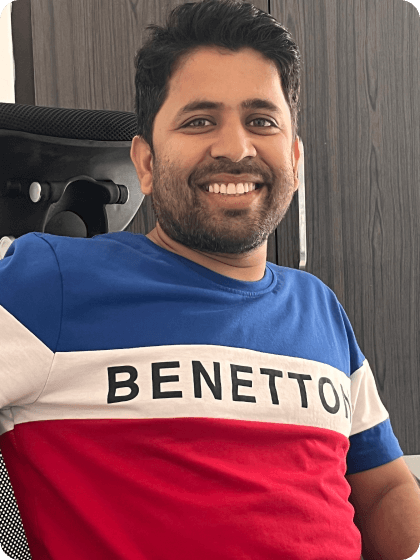 Trainer Name
Degital marketing trainer
Trainer Name
Degital marketing trainer
Trainer Name
Degital marketing trainer